Did you newly discover your espresso love? Hand press espresso drinks are challenging and could be the most relentless technique ever discovered for making coffee. But if you are up for some efforts, then you can get one Manual Espresso Machine for your home.
I know, while most of you would say 'why not automatic?'
There's a difference of getting a job done and doing the job by yourself.
If you are a lover of real craft, then you will surely love the espresso making process. 
BUDGET-FRIENDLY CHOICE
DeLonghi Espresso Machine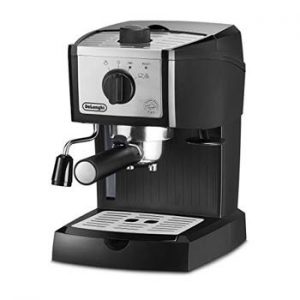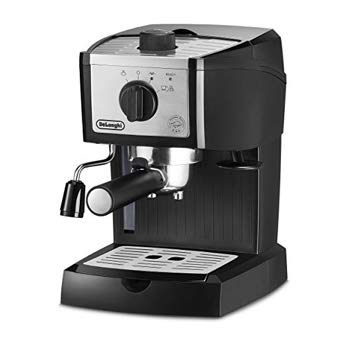 Bring the essence of a true coffeehouse to your home with the budget-friendly DeLonghi. It includes two separate thermostats for controlling both the water and steam temperature. The compact design, steam wand for a frothy crema, dishwasher-safe drip tray and water tank, etc are some of the notable features of this manual espresso press. 
EDITOR'S TOP PICK OVERALL
ROK Manual Espresso Machine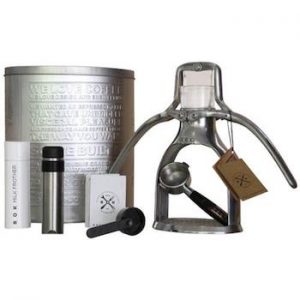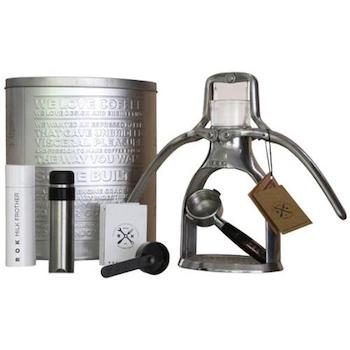 Our Best Overall Pick- ROK Manual Espresso which remains unbeatable among all the systems reviewed. It puts you in control of each step performed during the espresso making. Packed with reliable machine parts, it offers you an excellent 10 years warranty. Also, it doesn't require any electricity for running, so a real escape from all the wiring. 
BEST PREMIUM CHOICE
Elektra Lever Espresso Machine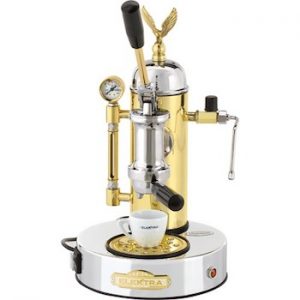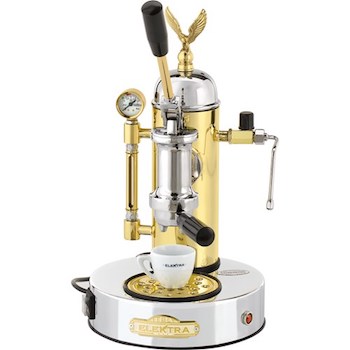 This manual press has specific attention to detail on the designing. If you are a lover of art and the authentic espresso units which were used during the Italian era, then this could be your thing. The design has been refined throughout the years since 1950 and doesn't require much time on the installation too. 
Top Picks for Best Manual Espresso Machines for 2020 – At a Glance
What Is A Manual Or Lever Espresso Machine?
I know you have set your heart on the manual espresso machine, but if you are not in a hurry then let's first understand what is a manual lever espresso, and what are the reasons for getting one.
Manual as the name goes, is totally in control or handled by the user. The types of espresso machines include the manual, automatic, semi-automatic and the super automatic type. I don't want to drag this definition though.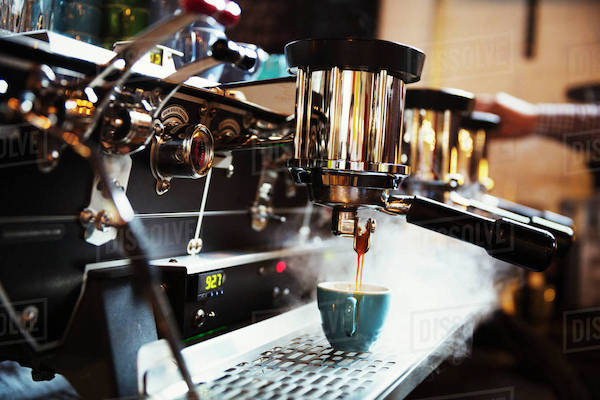 So, my version for defining a manual espresso machine-
a machine which makes use of fine ground coffee and hot boiling water in such a way that each advancement of the espresso making is in complete control of you. Firstly, the ground coffee is taken inside the portafilter, and put it under a pressure of 9-12 bar. Hot water, passing through the water tank is poured on the pressed coffee ground, giving out the hot espresso for you.
Espresso Tip: To make the best hand press espresso at home, make sure that you use only the freshly ground coffee beans, as it gives the best flavor and aroma to your drink.
Reasons To Buy A Manual Espresso Maker
Automatic Espresso Machine gets the entire espresso serving done on its own. I know this is comforting and easy – but if are in to take some real efforts, then you can try your hands on the manual espresso makers. Believe me, it would be the most memorable thing for a true coffee pundit.
Comparing both the manual and the automatic systems-
Automatic systems are easy-going, so what's special about the manual machines?
The hands-on satisfaction is a real shit.
Reasons which make the manual press a better system to opt for:
REASON #1 OFFERS MORE CUSTOMISATION 
Using the best manual espresso maker, opens a door of custom coffee brewing. You can make minute changes to the process and adjust the brewing as per your preference.
REASON #2 NO NEED OF ELECTRICITY
Unlike the automatic brewing, the manual espresso requires your muscle strength and movement. There's no need of external power source which saves up your money and also makes it an energy-saving option. Even the people living in the remote area can get access to the espresso via this hand coffee maker.
REASON #3 RETAINS THE ART
It's important that one appreciates the art involved in the making of your coffee cup. Otherwise, pressing a button and waiting for the best lever espresso machine to pour coffee actually doesn't teach you anything. So, yes this old school espresso machine keeps you connected to the art and makes you understand the value of efforts.
How Much Difficult Is It To Operate A Manual Espresso Machine?
Manual machines are not automatic. But this doesn't make the former any inferior to the latter.
Every gadget or machine has its own set of challenges.
If you are new to hand pump espresso, then don't expect to get Starbucks quality coffee at your first trial.
Not all the manual espresso makers are difficult; some of them are comparatively easier than the other. It would be better if you could test the model hands-on for more clarity. Go for something that is light on the hands and processing so that you can get more idea on the manual brewing. Then, later you can make that big jump for the high-end models.
Best Manual & Lever Espresso Machine Reviews
Yay! Here you are! It seems you are finally convinced to make a shot on the manual espresso machine! The lever espresso machines rocking the espresso industry at the moment (time of writing) are given as follows:
#1. ROK Presso Manual Espresso Maker
'It might look like a work of art but it treats the coffee making as a science', this is what BBC mentioned about this model, and I can't agree less on that. ROK espresso comes with a remarkable packaging, and almost everything is made of stainless steel except the foam fittings used for safety purpose.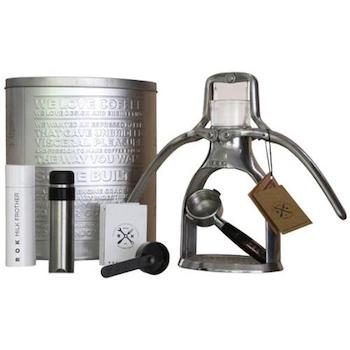 ROK has replaced the old bulky espresso machines into a no-fuss design. Along with the simple design, you can make authentic espresso shots without burning a hole in your wallet!
Portable: Yes
Grinder: No
Frothier: No
Warranty: Yes
Dimension: 12.2 x 8 x 10.5 inches
Style: Lever
On the base portion, there are four rubber legs provided for a slip-resistant quality. This will keep your countertop clean and prevent the hand espresso machine from sliding down. It's delivered with a storage tin that you can use when the lever espresso is not in use. This tin also lets you carry the machine wherever you wish to carry it.
This manual espresso machine doesn't require electricity for the operation. So, no more wires and tiring machine maintenance! And, of course, the 10 years warranty is yet another star feature.
For brewing purpose, you can use ground coffee beans, pods, and capsules as well. To prepare your coffee, first fill up the reservoir, then raise the arms and finally brew it. There's one stainless steel frothier included with the espresso maker, but as per a few Rok Espresso Reviews – in the long run, it won't be of any use to you.
Note: Though it's not the premium espresso machine, you can opt for ROK anytime if you want to escape the long queues and the hassle of going to an actual Cafe.
Pros
No electricity required
Durable design
Decade warranty
Compact
Works in the traditional style
Non-slip bases
Finally, storage tin included
Cons
The frothier is just a show-off thing. Rest all good.
#2. The Elektra S1 Micro Casa Lever Espresso Machine
Elektra falls in the first place when we talk about the traditional espresso models. This the sole reason I added it to the premium category. It has a stunning design, and the first look on it will take you to the Italian Era where the first ever hand press espresso was made! WELL, all the artistic and elegant design makes it dear in value.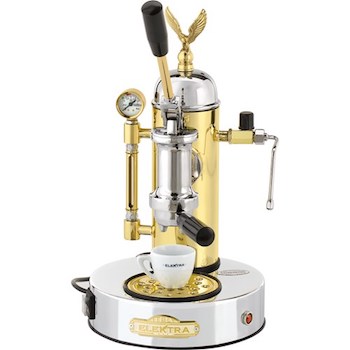 I don't know if this espresso comes in the copper metal, but the one I saw was the brass espresso machine. Although it was expensive for my budget, I was in awe of it's design the moment I saw it! The spring lever added gives you a consistent brew too. The boiler has a capacity of serving 18-single shots of manual espresso in one go!
Portable: No
Grinder: No
Frothier: No
Warranty: Yes
Dimension: 10 x 10 x 19 inches
Style: Lever
Coming to the design and pattern, it's a bit over the top one. Elecktra has a silver shining surface on the outside, and when you learn more – you will realize that the making of this machine dates back to the 1950's era during the Belle Epoque Espresso Era.
The perfect blend of classic espresso style and the modern features. Even though the design resembles that of the 1950's time, it is built with modern settings that is durable in quality and excellent on the making!
Elektra manual espresso machine systems come in three different variants – chrome & brass, chrome, and finally the copper & brass model. The copper espresso machine comes with parts of brass metal added. Each of them works in the same way, so you can choose any model out of the three. Yes, selecting the right metal is important, therefore do a thorough study before the purchase.
Pros
Retro Design
High Boiler capacity
Spring lever gives a consistent brewing
Finally, warranty
Cons
The lever is heavy, might be hard to operate
#3. La Pavoni EPC-8 Europiccola Manual Espresso Machine
La Pavoni Europiccola is the sibling of the La Pavoni Professional and the Romantica model. Put in your secret coffee ideas to action with this perfect ideal espresso unit! This manual espresso maker has an all-steel sturdy construction body, combined with a heavy chrome coating.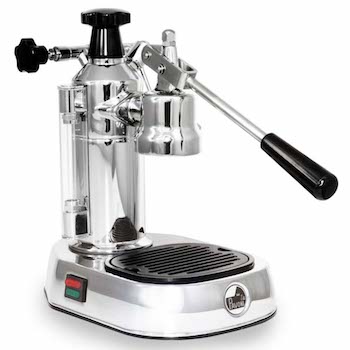 With a weight of 14 pounds and the 8-cup espresso serving, this La Pavoni Espresso Machine Review indeed goes well for home use. It's just not all fancy and plush but works equally excellent in giving you the right, desired results.
Portable: No
Grinder: No
Frothier: No
Warranty: Yes
Dimension: 11 x 7 x 12 inches
Style: Piston
I don't know what's the definition of a best manual espresso machine for you, but for me, it is Performance and Durability. It's one of those ideal kitchen models that anybody can use, with the easy to operate piston and hands-on lever working. You can prepare the best of the manual espresso press and steamed milk in the best convenient way.
On the design part, you get a triple chrome-coated design with a chrome base, stainless-steel on the heating elements and brass boilers. All in all, it gets you a long-lasting and high-grade espresso – worth all the price.
The traditional steam wand on this ROK manual espresso maker – makes it easy for preparing milk coffee at home!
Once you get the way on how to operate this machine, you can show off your barista skills and make brilliant latte and cappuccino shots just on the go.
This espresso machine has an attractive design, so you can easily leave it out on the counter itself. A little too heavier to move around in the house, like after having many authentic coffee sessions – something that you would definitely wish for.
Pros
Premium design
Easy lever operations
Highly durable
Safety valve and one water level gauge included
Finally, traditional style of steam wand prepares the best milk coffee
Cons
Not portable
Keep a check on the Pressure valves functioning
#4. DeLonghi EC155M Manual Espresso Machine
DeLonghi is among the global leaders who are into the making of small household appliances. Their main line of productions includes three categories – espresso machines, home comfort, and specialty cooking. The EC155M espresso machine assures that you get the coffee just like the way you want it.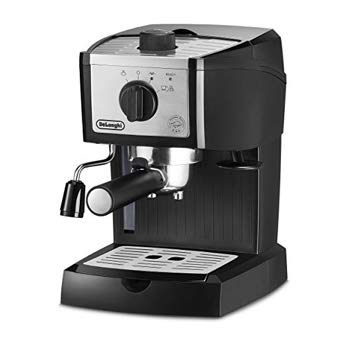 It comes with the three-in-one filter feature and a filter holder with a capacity of 2 shots. Along with this, there's an easy serving espresso pod too, therefore you can choose whichever suits your mood!
Portable: Yes
Grinder: No
Frothier: No
Warranty: Yes
Dimension: 11.4 x 9.1 x 13.8 inches
Style: Piston
Rapid Cappuccino utility helps with maintaining a high constant temperature so that you can brew cup after cup on this manual espresso machine. Almost everything is done by the machine itself, both the water and pressure values are controlled by the thermostat – giving you a perfect espresso shot.
Both the water and steam pressure settings let you make the perfect espresso now at your home!
The espresso unit comes in a black design with stainless steel accents which gives it an elegant feel. You can set the model wherever you wish to, as it won't take much of the space. It comes with a removable water tank with 35 oz capacity, that is easy to remove, fill and attach. On the side portion, you can get a watermark label for checking the level of water, no more guessing!
Both the drip tray and water tank are dishwasher-friendly, making it quick on cleaning and maintenance. This actually saves up a lot of your time too.
Just like all the other La Pavoni machines, it doesn't have a spring lever instead works on the user-operated piston. This means that a lot of the job is carried out under your control, so you need to learn the manual espresso machine processing really well.
Pros
15-bar professional pressure setting gets you quality coffee every time
Steam wand helps in making frothy cappuccinos
Less waiting time
Water tank is removable, and dishwasher safe
Finally, compact design
Cons
Need some expertise coffee skills to operate
Runs on electricity
Overheating issues reported
#5. Wacaco Minipresso GR, Portable Espresso Machine
The best lever espresso machine ON THE GO! Now you can make espresso shots and enjoy it wherever you want to. Wacao brings their Minipresso – compact and featherweight. Along with that it indeed has a uniquely innovative design, combined with the high extraction pressure which gives you a bold, and creamy cappuccino.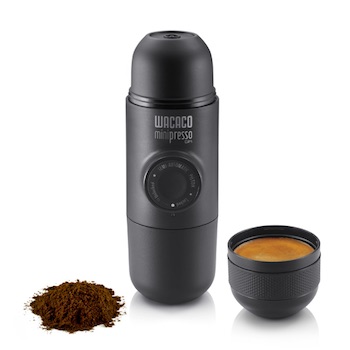 There are inbuilt cup and scoop that you can use it for the making and serving. This one's the best choice for someone who wishes to taste different varieties of coffee and prepare authentic espresso shots wherever you are.
Portable: Yes
Grinder: No
Frothier: No
Warranty: Yes
Dimension: 7 x 2.5 x 2.4 inches
Style: Piston
Minipresso Manual Espresso Machine has three series to choose from – GR, CA, and NS.
The first key component here is the Minipresso Tank+ which is compatible with all the Minipresso series. You can also replace this tank with your previous standard coffee tank, and prepare longer espresso shots of 100ml.
When you purchase this manual espresso, the Minipresso Kit is delivered with the Minipresso Tank+ and three additional GR filter baskets with a cap. These filter baskets contain fully ground coffee beans, which can be easily stored inside the coffee tank.
There's no need for N2O or compressed air for operating this espresso maker. It's a hand operated machine that will get you quality coffee without the electricity.
Another cool thing about this product is that you can make use of any coffee bean for the preparation so that you don't remain stick to one option. 
Pros
Lightest
Compact
Works with any coffee roast
Doesn't require electricity for the working
Works for all coffee lovers regardless of the age
Fit anywhere and everywhere
Cons
It may leak after a short usage
Too small tank, not suitable for a strong espresso drinker
#6. Lever Presso: Portable Lever Espresso Machine
Simple machine and a great coffee – that's the best way I could begin my experience with the Lever Presso. My aunt had this manual espresso machine, and she used to mention how well it worked for her. Because of the portability support, I could take the machine for testing it out for a week.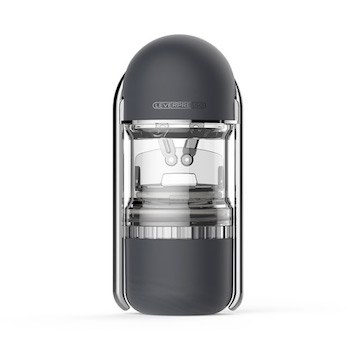 You can now pull out rich espresso shots from anywhere, home or a far away place from home. It comes with a double-sided arm which makes it easy to carry and operate. Yet the lever espresso maker is capable of generating 9 bars of pressure and can maintain it for a steady brewing.
Portable: Yes
Grinder: No
Frothier: No
Dimension: 70 x 85 x 175 mm
Style: Lever
What's so unique about this portable lever espresso?
Unlike most other portable systems, the LeverPresso has a water tank of 120ml, and a portafilter of 17g – using which you can pull out double espresso shots anytime!
For the working – grind the 17g of coffee to an espresso-setting fine grind. Then, add 120ml of the hot water inside the water reservoir, and set up the machine. Raise the levers provided on either side and push them downwards for about 20 to 30 seconds.
This portable coffee maker runs without the presence of electricity, and yet gets you DOUBLE Espresso SHOTS anywhere, and anytime!
A lot many durable metals are used for the making of this manual espresso machine, which includes stainless steel, titan plastic, and other BPA-free plastics.
The Leverpresso model comes in two different color shades – Dark Grey and Light Grey. You can select it as per your choice. It's the best travel companion you will ever get with the incredible weight of just 440g! 
Pros
Portable yet serves double espresso shots
Light-weighted
Durable built
Pressure is controllable
Easy to assemble and disassemble
Cons
Fragile. Handle with care!
#7. MiPress Hand Pump Espresso – Portable
Another small, compact and smart Espresso Maker by the MiTymes. The machine's name is MiPress Espresso Pump made for those who love coffee like anything. If you are planning to buy an espresso thing for your friend, then this could be the best choice!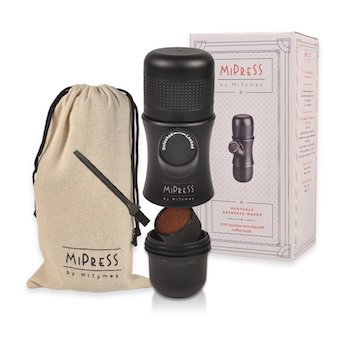 This mini manual espresso machine has a 2.5 quart of capacity and comes with a high-graded piston on it. Yes, it's portable and you can make out your favorite drink with just three things – hot water, hand pressure, and ground coffee. So easy!
Portable: Yes
Grinder: No
Frothier: No
Warranty: Yes
Dimension: 3.9 x 3 x 7.9 inches
Style: Pump
TBH, hand pump espresso machines are rare to find, and only a few of them actually works. If you are specifically out in search of pump based espresso makers, then MiPress would be my recommendation to you.
You can even take this manual espresso machine with you while you are on the go, as it doesn't need any kind of power for the working. Inside the package, you will find one travel bag and one filter basket brush that will assist you in making your favorite Espresso no matter where you are!
For those espresso shots while you are on the go! It's compact in shape, runs on batteries, and there's one e-book provided for learning more about espresso making.
Making the coffee is effin easy! First, you need to grind the coffee blend, and then place it inside the filter. Using the spoon provided, gently dab on the coffee blend and set them rightly. Fix this coffee portafilter on to the machine, and then release the hot water from the water reservoir onto the coffee grounds.
The processing is simple and basic, just like any other manual espresso unit.
Pros
Can be gifted to an espresso lover
Compact
Easy to use
Travel-friendly
2.5 quarts of espresso
No electricity required
1-year Warranty
Buyer's Guide
You now understand what a manual espresso machine does and why you need it! Later we discussed the Top brands – the recommended ones that works perfect for a newbie or a professional preparer. While you set out to buy an hand press espresso, there are certain parameters that you need to take a look upon inorder to make the right and suitable purchase.
How to Choose the Best Manual Espresso Machine?
Before listing out the factors, I would like to make certain things clear about the espresso machines that you can choose out from. It's important that you know everything, right?
There are briefly four types of espresso machines you can choose from – manual, automatic, semi-automatic, and super automatic.
The ones discussed in this post are manual machines, which are completely operated by hands. Things that you need to consider for a manual espresso maker are:
Consistent Heating
This point stands true for all types of espresso machines.
Even when you are looking out for your manual espresso machine, the first thing you need to note is for how long the unit can provide heat to the coffee. This will assure that you enjoy a matchless espresso whenever you make it.
Some coffee machines include PID controller on the heating that allows you to extract and steam the coffee at the same time.
Operation & Handling
What's the point of spending in bucks and not able to even shift the espresso machine by yourself? Ugh, well right, there's no point. I would like to highlight this point itself- if you are buying something, putting in your hard-earned money to a coffee maker, make sure it is easy on your hands.
The functions should be simple, and all in all easy on the handling.
The Power Source
You can either choose the electricity-run or the battery run model.
Now, I can't say which model is better than the other. It depends on how you want to use it. Both the options are fine; if you are on a trek with no electricity around, then the battery-based model will come to your help. On the other hand, someone who wants to buy an espresso machine for home – the power cord option would stand better.
Portability
Portable means something which is easy to carry and move. Go for something that is less heavy yet high-performing. There's no need of investing and getting a bulky machine for making authentic espresso at home. You can now find portable, and light-weight manual espresso models with all the basic required functions – at a decent price.
Durable
It's the right time to discuss safety concerns. By choosing a durable and quality-build manual lever espresso, you are simply assuring the safety of you and your loved ones. By choosing a safe manual espresso machine, you are less likely to hurt your hand with the hot coffee sprays.
Heating Element
Yes, the heating element quality and the material is also important to consider. Aluminum would be a cheap option but it's prone to corrosion and leak. Whereas, stainless steel won't corrode but they would be the best home for the bacterias to build up. On the other hand, Brass neither corrodes nor welcomes the bacteria – but it would get pricey.
So, if you want the machine to last, check the heating element quality.
Decent Size
Here the size indicates the measurement of the water tank included. The small water tank means you will have to keep on refilling cup after cup which increases the waiting time. To solve this, you can better go for a decently sized water tank that serves a moderate number of espresso shots.
Along with the size, check on how easy is to clean and maintain the water reservoir. Go for the removable reservoirs or the ones that are pulled out from the top portion.
FAQs
Here are the answers to some of the frequently asked questions about Manual Espresso Machine.
How to Use a Manual Espresso Machine?
It depends on the type of the espresso machine you are on. If you are using a hand press espresso, then it's important to get the pressure done right. Here, boiling water is added to a packed/pressed ground coffee bean. For making the best of the pull espresso machine, a minimum of 9 to 10 bars of pressure is necessary. Then, the boiler will heat up the water which later gets mixed with the grounds.
What's the Difference Between Coffee and Espresso?
If you go by a layman language, both the things may sound similar to you. But it's not the same. Espresso is one type of coffee which is prepared by passing hot boiling water to high-pressed ground beans. While normal coffee is prepared by adding ground coffee to the boiling water like the drip coffee. The main difference lies with the added pressure on the coffee grounds, which is absent in the normal brewing.
Do I Need to Flush the Lever Espresso Machines at Any Time?
For a smooth start on your espresso journey, it is recommended to perform the flushing process before starting the functioning. To do that,
Rinse and fill up the water tank.
Plug in the unit and turn off the switch if any provided on the machine. This will light up the PowerOn button, and then place a vessel below the milk frothier.
Open the hot water knob, and set the selection knob to Coffee. This will remove out the water contained in the water tank.
That's it.
How to Clean the Manual Espresso Machine?
This mainly depends on the pull espresso machine you are using, and their cleaning instructions. Add the machine components to the dishwasher only if they have mentioned being dishwasher-safe. Otherwise, a damp cloth wipe would be enough for cleaning purpose. Be careful while wiping the steam wand, as it may cause steam burns on your hand.
Are the Espresso Machines Costly?
You will find different range of prices for the espresso machines. Depending on the function and the budget, there would be a suitable manual machine for you.
How Will I Know If I Made the Espresso in the Right Way?
The Crema will say that. It's the top portion of the coffee with a fluffy, creamy brown foam which forms the crema. This is the final thing produced out of a perfectly brewed espresso shot.
Is It Important to Have a Coffee Grinder as an Addon?
Umm, so it's hard to find a coffee grinder on a manual machine. This utility comes as an inbuilt feature on all the automatic espresso machines. Espressos rely a lot on the quality of the coffee ground, the more fresh grounds the better gets the coffee. So, having a coffee grinder will help you with grinding coffee beans instantly, for making the best espresso at home.
THE ENDNOTE
I hope the ride was smooth and easy.
Even though ROK made up to the Editor's Picks, I would strongly suggest you go through all the products in detail. This will help you in deciding the right espresso that matches well with your requirement and skills.
So what do you think? Are you buying one manual espresso machine or not?
Also, guys, I would like to get small feedback on the posts we share. Do you like them or not! Of course, suggestions are welcome too.