There's list of coffee trends which remain timeless, and Affogato Coffee is certainly one of them.
This is a classic Italian Coffee recipe, that has been loved by many and it has undergone different variations with time. It still remains the best in any version!
Affogato is an Italian word, and it means something which is drowned. This relates a lot to the brewing and processing of the coffee. We will check it out in detail, with the making and the variations people have brought to it.
What is Affogato Coffee
A true coffee lover is someone who respects all kinds of Coffee recipes, no matter he/she likes it or not. I am such a person, and all the 90's kid out there will understand why I am saying this.
Affogato, the name itself will bring up a smile on your face and it will always have a special place in our hearts.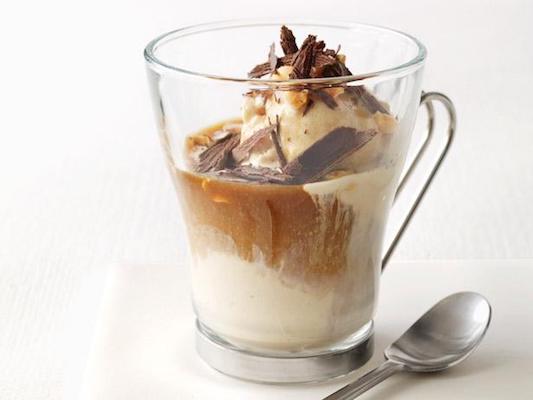 It is an Italian based coffee, but more popular as a dessert which is prepared
by drowning a scoop of ice-cream into your Espresso!
 You can make it different by adding a small shot of
Bicerin
, Amaretto, or any other liquor for the customization.
Make sure that you only use an ounce of Espresso shot for a scoop of ice-cream. You don't have to drown in your ice-cream into the drink, therefore keep the measurements in check.
So a basic Affogato drink is made by topping an Espresso shot with a scoop of vanilla gelato or the ice-cream form of the same. You can make out suitable custom recipes by adding any form of liquor with this Coffee shot.
Although people and restaurants in Italy recognize Affogato as a dessert, there are many places outside Italy which considers this as a beverage. To make the drink more interesting, you can add up your favorite nuts, berries, coconut, as well as other variation of the ice-cream.
The well-known celebrity chef 
Jamie Oliver
suggests of using roasted almonds, biscotti biscuits drenched in the roasted Arabica Coffee, as an ice-cream topping.
He also adds that you can use out the left-over Christmas desserts like the tart, pie, chocolate mousse, pudding for making it more rich and delicious!
Did you like our article?
Let us know your reviews and comments below, and post your questions if you have got any.
Till then, you can do a follow on our page CoffeeMakered for more updates and Coffee Tips.
Know More: