Want to prepare a special Coffee drink for your Italian friends?
Then you must try out the Bicerin Coffee!
It's an Italian beverage and is even easy on the preparation. This delicious drink will definitely leave the aroma and taste lingered with you for a long time.
Yes, it's that good!
We shall now check out more details on the Bicerin Coffee, and know how it's prepared.
What is Bicerin Coffee
Bicerin has got its origins from Turin, Italy and the name Bicerin is a dialect which means small glass. It has been present since the 18th century time and was even liked by Alexandre Dumas (famous French author) himself. He was the writer of the well-known 'The Three Musketeers' novel!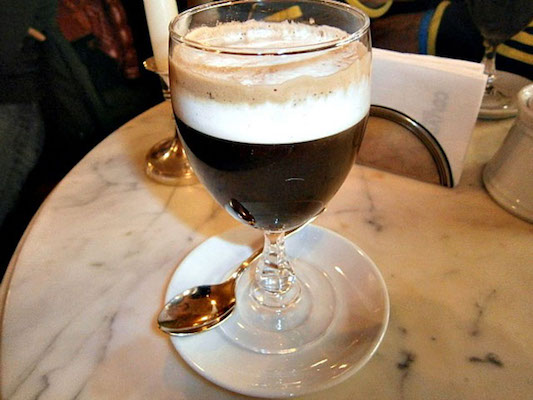 The unique thing about the Bicerin Coffee is that here the components used in the making are not mixed. Instead, they are carefully layered one over the other.
You can follow the below recipe for 2 servings, and it goes as follows:
Before getting off, just be sure that you got a clean and clear glass for serving. It is all about how the Coffee is layered! (Yes the taste matters too.)
Keep a saucepan on the heat, and to it add about 250ml of milk, along with 30 ounces of chocolate (bitter or the semi-sweet).
Whisk the content, and bring it to boil. Boil it for a minute, and then turn the heat off and set it aside.
Next, you need to prepare a small portion of a strong coffee or an Italian Espresso.
That's pretty much done, and now you just have to do some layering work.
Take the serving glass, and pour in the Espresso which makes at the bottom place. Then, it's the turn for the chocolate mixture. Layer it carefully over the Espresso mixture.
On the top, you can add the freshly whipped cream to make it all perfect!
In the end, you will get an amazing drink with a strong Espresso shot topped with the fresh cream froth. There is no waiting, and this Coffee is served hot.
Try out this International Coffee Recipe, and share us your experience in the comment space below.
You can customize the coffee with nuts, or even add chocolate curls or shavings on the top.
If you liked this post, then do share it with your friends and family. Know more about our works and other interesting coffee facts on CoffeeMakered!
Get more info: