Kopi Tubruk is a simple coffee drink which has its roots in Indonesia. Many of you guys requested about reviewing this coffee and sharing a brief on it. So, here it is!
You can make use of any of your favorite coffee flavors for the Coffee preparation. In a Kopi Tubruk drink, the coarse coffee grounds are taken and they are boiled with the solid sugar. That's how this coffee drink is prepared.
What is Kopi Tubruk?
Kopi Tubruk or Kopi Tobruk point towards the same coffee. You may come across both the names online, so I'm just making the things more clear to you. As I mentioned before, it is an Indonesian style of coffee. This one is quite popular in Bali and parts of Java.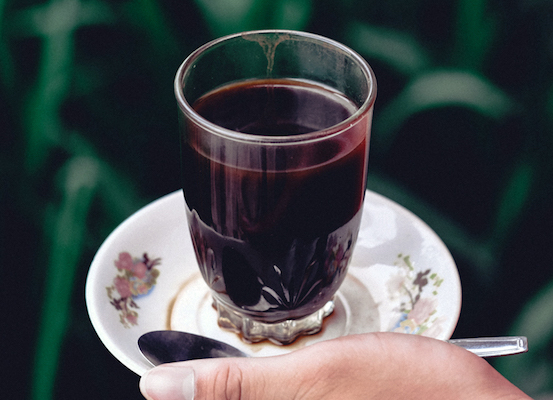 When you are in Indonesia, it is a better alternative to know how to make a Kopi Tubruk than to spend lots of your money on expensive coffee shops. You will come across different coffee types which will be either too sweet or low on sweet.
Why create such confusion when you can make the authentic Kopi Tubruk at home?
There will always be a bottle of coffee grounds on the table at homes or hotel places. This is not for making that instant coffee drink, instead, you can prepare your personal cup of Kopi Tubruk.
Steps for preparing a Kopi Tubruk coffee goes as follows:
Take about a big tablespoon of the Kopi Tubruk into a beer mug or a coffee mug whichever you have got near to you. Now, teas are more watery and also less on flavors so people tend to drink a lot of this beverage. Add sugar if you want to.
Bring some water to boil, and then you have to add this water to the Coffee mug. Make sure that you don't over-boil the water. As soon as the water just starts boiling, turn the flame off and add it to the mug leaving about a 1cm space from the top. Lots of water in the coffee will only make your drink taste flat.
Now, stir the coffee well and mix it so you get a proper drink, with no lumps.
Keep the drink as it is for a maximum of 5 minutes.
Drink the coffee making sure that the coffee grounds on the bottom doesn't mix with the water again.
So, that's how you prepare a Kopi Tubruk drink. Isn't it easy? So, if you are in Indonesia then you should definitely try it out. There are a lot of coffee options that I have come across, but like I said there are days on which I like going being local.
That's how I tried out the Indonesian Coffee, and it turned out pretty well for me. I am sure it will also work great for you!
Try out this coffee recipe at home, and let us know your thoughts in the comment space below.
Cheers!
Also Visit: