A Piccolo is a small-sized flute-like musical instrument. So you guessed it right; Piccolo Latte means baby Latte, which is nothing but a miniature version of Latte.
So what is the need to make smaller versions of coffee drinks?
The answer is pretty simple. Coffee drinks like Latte or Cappuccino are prepared using milk. And workaholics that need their frequent shot of caffeine in every few hours or so cannot tolerate such a large amount of milk. Afterall, it is the caffeine that everyone craves for, right?
So the solution was simple, creating a drink that satisfies the taste buds, gives some boost but keeps that lactose intake in control.
And that is, ladies and gentlemen, the Piccolo Latte!
Let us know more about the coffee drink. Shall we?
---
What is a Piccolo Latte?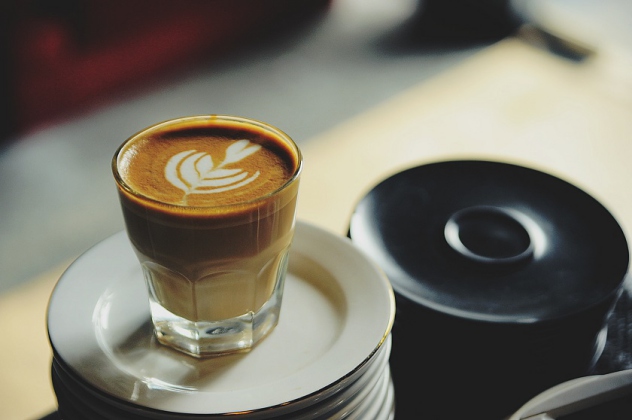 Piccolo Latte first got popular in Sydney about a decade back. Ever since then, it's been the favorite coffee shot of a lot of workaholics.
The traditional way of serving the Piccolo Latte is in a 100 ml baby glass (see demitasse). Also, a significant change here is that Piccolo Latte is usually prepared using a Ristretto shot instead of the Espresso!
So a Ristretto shot poured with silky warm milk, and there you go; Piccolo Latte is prepared!
Homemade Recipe to Prepare Piccolo Latte
There is quite a ruckus regarding the preparation of Piccolo Latte. However, we are going to show you both the possible ways to prepare a Piccolo Latte.
Both the ways suggest using a

100 ml

glass called the demitasse. So grab a demitasse.
Take some of the best coffee grinds, preferably of a lighter roast.
Now here is where the opinions differ. You can take 

30 ml

of espresso extracts or

20 ml

of ristretto in your demitasse. It totally depends upon your taste buds as both the way, it tastes amazingly good.
Once you are done with the coffee extracts, steam some milk on the stovetop or a microwave. Make sure not to burn the milk and keep the temperature around

70 degrees

.
Pour the steamed milk into the demitasse.
Voila! Piccolo Latte is prepared.
The EndNote
The close siblings of a Piccolo Latte are Macchiato and Cortado. They both differ from Piccolo Latte in terms of milk to the coffee ratio, serving pattern, or coffee roast kind.
So that's all from our side coffee lover! Now you know what is Piccolo Latte, its origin, how is it prepared and much more.
If there is anything else that you need to know. Just give us a comment below. We'll take it into account and solve all your queries.
Cheers!